KPS Gill
From SikhiWiki
KPS Gill Should Be Tried For Genocide In World Court - Says Widow Of Murdered Sikh Activist
By R. Paul Dhillon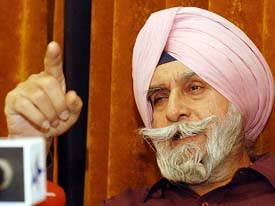 KPS Gill
Kanwar Pal Singh Gill, began his career as a police officer in the north-eastern state of Assam, quickly earning a reputation as a tough officer. He became a household name across the country as Punjab police chief in the early 1990s, when he was credited with crushing a separatist revolt and addressing Sikh Militancy in the Sikh-majority state, for doing so, he earned the sobriquet of a "supercop".[1] He is also known as a convicted sexual offender because of his conviction in a sexual crime by several courts of India [2] [3]. [4].
Gill publishes the Faultlines journal and runs the Institute for Conflict Management, as well as advising governments and institutions on security related issues. He was asked by the government of Sri Lanka last year for similar advice. Mr Gill has also written a book, "The Knights of Falsehood", which explores the abuse of religious institutions by the politics of freedom struggle in Punjab.
He got involved in sports administration after retirement and is currently the IHF ( Indian Hockey Federation) president.
He has also been appointed as a consultant by the Chattisgarh government to help tackle the Naxalite movement in the state.
KPS Gill's Counter-Terrorism Techniques in Punjab
There were serious charges levelled against him and his police by human rights activists that thousands of suspects were killed in staged shootouts and thousands of bodies were cremated/disposed without proper identification or post-mortem.[5][6] [7] [8] [9]. Police under his commnad used in-human torture techniques to extract information from Sikh Militants and in their killings, Gurdev Singh 'Debu' an area commander of Khalistan Commando Force, was boiled alive by his police[10]. Even Khushwant Singh is said to have gone volte-face after reading the research Reduced to Ashes Book by a human rights group[11] [12] and remarked "It is spine-chilling.... Well, Mr Gill, it is not rubbish; you and the Punjab police have quite a few awkward questions to answer"[11].
Several number of Sikh women - teenage girls to old women, were gangraped and molested by Indian security forces during house to house searches. Looting of the villagers' property and ransacking of the entire villages also happened during his reign. [13][14]
SURREY - The widow of murdered Punjab-based human rights activist Jaswant singh khalra said former Punjab Director General of Police K.P.S. Gill, also known as the "Butcher of Punjab" should be tried as a war criminal for genocide of Sikhs in a world court for massive killings that occurred in Punjab under his command and that of the central government of India.
Paramjit Kaur Khalra - who has been leading the fight for justice following the kidnapping and murder of her husband in September 1995 - told a media gathering in Surrey that she thinks the only way the victims - which number well above 25,000 people - can get justice is if criminal cops like Gill and others are tried in a world court like other war criminals from Europe, Africa and Central America.
Khalra's widow is on her first Canadian trip to bring awareness to her plight and the plight of thousands of families of victims who are still awaiting justice for the random killings of young children as young as six months, men, and women.
Her organization in Punjab has been compiling data on the victims for the past decade, a work which was started by her husband. So far they have identified 2100 people dead from just three cremation centers - from which the government has already accepted blame for 109 - but she says thousands more are unaccounted for and continue to remain victims without justice.
Paramjit Khalra made it clear that she is not here to seek funds but assistance in the fight - which includes lobbying western governments and the United Nations to order a trial for the crimes.
Earlier she was in Toronto - where Liberal MP Colleen Beaumier took up her case with the Punjab Chief Minister Captain Amarinder Singh to ensure an impartial investigation into Khalra's case, following reports that the prosecution lawyer in the case was being threatened by Punjab police officers.
In a letter to the Chief Minister, copies of which were sent to the Indian High Commissioner in Ottawa, the Canadian Minister of Foreign Affairs, the CBI, and all the Canadian members of Parliament, Beaumier expressed deep concern over the "harassment and threats" against Brijender Singh Sodhi, the prosecution lawyer in the Khalra case.
"I am very disturbed by reports from witnesses that Sodhi was approached by a police officer while entering the court and threatened with bodily harm and ultimately his life. These are very serious allegations," said the Brampton West MP in her recent letter, terming the attempted intimidation of a lawyer investigating the Khalra case "profoundly troubling".
"I understand that the investigation into Khalra's 1995 disappearance involves members of the Punjab police force. I ask you to ensure this investigation is impartial and, if members of the police are found to be implicated in this case, that they be held accountable for their actions and pursued by the judicial system to the full extent of the law," said the MP, further asking that full protection be granted to Mr Sodhi, all the members of the investigative team and all accompanying human rights organisations that may be involved.
Khalra's case has been called the travesty of justice in India - the country that calls itself a democracy.
Amnesty International's report INDIA - A mockery of justice: The case concerning the "disappearance" of human rights defender Jaswant singh khalra severely undermined, details the organization's concerns at allegations that accused police officers have attempted to suppress evidence through intimidation of witnesses and those campaigning for justice and expresses fears that attempts are being made to prevent further investigations and deny justice.
"On the eve of the next hearing in the case -- 28 April at the Special Court of the Central Bureau of Investigation in Patiala, Punjab -- Amnesty International is calling for immediate investigations into the allegations of intimidation and harassment, followed by prompt action against officials. The organization is also calling for the protection of witnesses and the suspension of police officials accused of involvement in Khalra's disappearance."
India was a member state of the 54th session of the UN Commission on Human Rights which, in March this year, adopted by consensus the draft UN Declaration on the Right and Responsibility of individuals, groups and organs of society to promote and protect universally recognised human rights and fundamental freedoms, providing for the protection of the activities of human rights defenders. Amnesty International's report calls on the Indian government to give a powerful signal that human rights defenders in India will be given full protection to continue their invaluable work.
Jaswant Singh Khalra

Jaswant singh khalra is one of the human rights defenders featured in Amnesty International's campaign to promote the 50th anniversary of the Universal Declaration of Human Rights.
Recent testimony also highlighted the role of top police officials like KPS Gill in the Khalra case. The sole witness who claims to have witnessed the murder of the activist, alleging that he had seen former Punjab Police Director-General of Police Gill go into a room in which Khalra was being kept at Manawala in Taran Tarn.
The witness, Kuldeep Singh, is a former Special Police Officer who claims he was recruited into the police by former Taran Tarn Senior Superintendent of Police Ajit Singh Sandhu. He told the court of the Additional Sessions Judge here that it was Sandhu's house in Manawala village in Taran Tarn, which was visited by K.P.S. Gill and other "clean shaven official" a few days before Khalra was murdered in 1995.
The witness after stepping out of the court said he was happy he had finally been able to tell the truth. He said during his deposition that he was taken to the residence of the Taran Tarn, SSP, by Jhabal Police Station SHO Satnam Singh who was keeping Khalra locked in illegal confinement. He further alleged that K.P.S. Gill remained in the room where Khalra was being kept for half an hour adding that during the journey back to the Jhabal police station, SHO Satnam Singh told Khalra that he would have saved himself if he had listened to the "advice" of the DGP.
Giving a lengthy deposition, the former SPO said he came into contact with Ajit Singh Sandhu, who was a prime accused in the Khalra disappearance case before he committed suicide in 1994. He said when Sandhu was posted to Taran Tarn in 1995 he accompanied him as a gun man. Sandhu's suicide was questionable sources say it was a police hit made to look like a suicide with a one line explaining Sandhu's actions. http://www.thelinkpaper.ca/hd1.htm
References